At our house we keep the majority of our medicines in an upper cabinet in the kitchen. We've done this ever since our children were really small, to keep them out of our children's reach.  Almost two years ago when I first started blogging, it was one of the first things I organized and posted about.
Almost two years ago
I am embarrassed to show the 2013 photo, but here goes…
I wasn't able to find anything quickly if my life depended on it, at this point.
So…. I completely emptied out the cabinet and sorted everything on my kitchen table, discarded expired medications and regrouped everything (Here is a link from the FDA on how to properly deal with unused medications).
I bought a couple of turntables to use in the cabinet to more easily be able to see what I have on hand.
Here is what the cabinet looked like when I was done (I hear angels singing)!
I relocated the batteries and a few miscellaneous items that had made their way into the cabinet.
Now it's tidy and organized once again. I know for my self that even my "organized" spaces need an overhaul maintenance now and then!
If you are interested in some of my other kitchen organization posts, here are the links: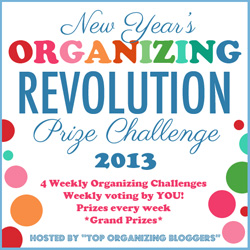 My motivation for getting this project done this week comes from the I'm An Organizing Junkie's New Year's Organizing Revolution.
I hope I've offered you some helpful tips!
Blessings,