Since I bought my daughter's bedding, I have been thinking of buying the lamp that matches it, but couldn't bring myself to spend the money. So lately I have been sorting through her clothes to weed out what she's outgrown, and I found this cute dress that's too little for her.
I decided to try and use the material to fancy up her current lampshade.
It was just a plain hot pink color, and definitely needed some jazzing up. I got my inspiration from a couch pillow that has these fabric "flower looking" decorations on it.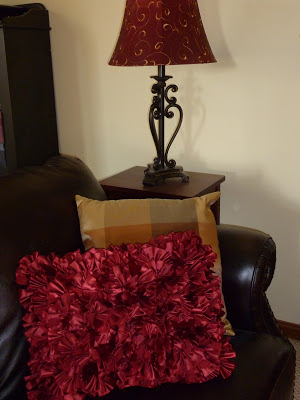 So I used a wide mouth jar lid to trace, and them cut circles out of the dress.
Then I took a needle and thread and weaved it in and out up the "middle" and pulled it tight, wrapped it around and tied it off.
After making a bunch in several colors, I glued them around the bottom of the lamp shade for a feminine frilly look. I didn't bunch them as closely as the ones on the pillow because I liked the "bow" effect I was getting.
I glued the belt around the top for some finishing detail.
I was excited to be able to use the dress to make her lamp shade prettier, and I still have enough material left over for another project!