Hope you had a blessed weekend, and were able to enjoy the outdoors. They are calling for snow in my neck of the woods this week!
Here is the menu plan for this week:
Breakfast Options:
(Any combination of the following)
French toast
Cereal
Fruit
Waffles
Toast
Eggs
Oatmeal
Poptarts
Egg whites and spinach (hubby's choice)
Pancakes
English muffins
Muffins
Baked oatmeal
Breakfast cookies
Quiche
Cinnamon rolls
Lunch Options:
(We like to add fruit and/or carrots to any of these "entrees")
Pasta (my kids love it)
Ravioli
Macaroni and cheese
Vegetarian corn dogs
Vegetarian hamburgers
Hot dogs
Chicken, turkey or ham sandwiches
Graham crackers and milk
English muffins
Peanut butter and fluff sandwiches
Whole wheat toast
Soup
Yogurt or cheese sticks, crackers
Leftovers from dinner
Dinners:
Beef roast, hashbrown potatoes and broccoli
Grocery list: Beef roast, carrots, onion, garlic, celery, garlic powder,
Worcestershire sauce, bbq sauce, hashbrown potatoes and broccoli
Southwestern chicken, mashed potatoes, peas and fruit
Grocery list: Chicken breasts, garlic powder, chili powder, paprika, lime juice, potatoes and peas
Hot dogs (we like Hebrew National reduced fat), fruit and carrot sticks
Chicken, black bean & salsa soup
Grocery list: chicken broth, chicken, salsa, black beans, rice, corn, sour cream, cheddar cheese and tortilla chips
Baked eggs (I use ham instead of sausage) and...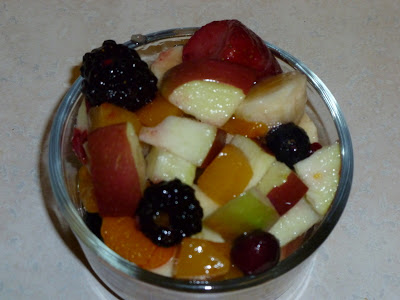 Fruit salad
Grocery list: Ham, eggs, milk, bread, mustard, paprika, nutmeg, cheddar cheese, various fruits for salad
BBQ sandwiches--(I'll probably buy the bbq already made for convenience)
Grocery list: Barbecue chicken or pork, buns, coleslaw, fruit and baked chips
Blessings,