December is here, and my hubby and oldest son have birthdays this month. I CANNOT believe my oldest child will be 17! I remember SO clearly the moment the doctor laid him on me just after he was born and how surreal the moment felt. Now he is almost a man, and I am so proud of him, but I have a hard time imagining where all the time has gone...
Breakfast Options:
(Any combination of the following)
French toast
Cereal
Fruit
Waffles
Toast
Eggs
Oatmeal
Poptarts
Egg whites and spinach (hubby's choice)
Pancakes
English muffins
Muffins
Baked oatmeal
Breakfast cookies
Quiche
Cinnamon rolls
Lunch Options:
(We like to add fruit and/or carrots to any of these "entrees")
Pasta (my kids love it)
Ravioli
Macaroni and cheese
Vegetarian corn dogs
Vegetarian hamburgers
Hot dogs
Chicken, turkey or ham sandwiches
Graham crackers and milk
English muffins
Peanut butter and fluff sandwiches
Whole wheat toast
Soup
Yogurt or cheese sticks, crackers
Leftovers from dinner
Dinner:
Grocery list: Canned navy bean, ham, onion and cornbread ingredients
Italian meatball soup and breadsticks
Grocery list: Meatballs, beef broth, Italian style stewed tomatoes, frozen stew vegetables and breadsticks
Quinoa, chicken and sweet potato stew (Great for the crockpot)
Grocery list: Chicken, onion, garlic, chicken broth, chili powder, red pepper flakes, quinoa, sweet potatoes, black beans, kidney beans and petite diced tomatoes with garlic and olive oil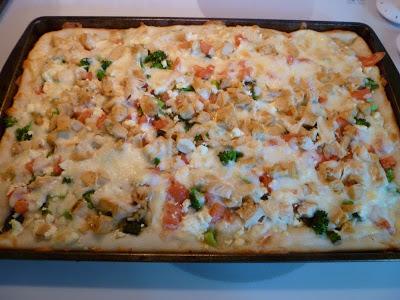 Garlic Butter, Chicken, Vegetable and Feta Cheese Pizza
Grocery list: Dough ingredients, garlic butter, chicken, spinach leaves, broccoli, tomato, Feta cheese and mozzarella cheese
Chicken salad sandwiches, red pepper strips and mandarin oranges
Grocery list: Bread or buns, chicken, mayonnaise OR ranch dressing, pickles, red peppers and fruit
Grocery list: Tortillas, cheddar cheese, chicken, and whatever else you like on your quesadillas, some use peppers or tomatoes, sour cream, salsa...
Hope you have a great week!
Blessings,