Wow, we have had some cold days lately, and this week looks to be freezing as well. I'm thinking my oldest son will have to make up some school days at the end of the year, because they've had so many snow days already!
I admit, my Christmas tree is still up, although without the presents underneath.
I keep saying "this week" I'll take it down, but part of it is, we do enjoy the soft glow
the lights give off and the sparkle, and my youngest is really reluctant for me to take it down,
and the other part of it is finding the time and energy to tackle it! 
If you have some bacon lovers in your household, you should try these fun Bacon Pancake Dippers!
Breakfast Menu:
(Any combination of the following)
French toast
Cereal
Fruit
Waffles
Toast
Eggs
Oatmeal
Poptarts
Egg whites and spinach (hubby's choice)
Pancakes
English muffins
Muffins
Baked oatmeal
Breakfast cookies
Quiche
Cinnamon rolls
Pumpkin pancakes
Baked eggs and cheese casserole
Toasted peanut butter & banana sandwich
Coconut Quinoa Granola
Smoothies
Lunch Menu:
(We like to add fruit and/or carrots to any of these "entrees")
Pasta  (my kids love it)
Ravioli
Macaroni and cheese
Vegetarian corn dogs
Vegetarian hamburgers
Hot dogs
Chicken, turkey or ham sandwiches
Graham crackers and milk
English muffins
Peanut butter and fluff sandwiches
Whole wheat toast
Soup
Yogurt or cheese sticks, crackers
Leftovers
Dinner:
Chicken fried rice
Grocery list:  Chicken, rice, eggs, soy sauce, frozen peas and carrots, onion and parsley
Roasted red pepper and goat cheese Alfredo and salad
Grocery list: Linguini, red peppers, onion, garlic, half & half, garlic & herb goat cheese, Parmesan cheese and salad ingredients

Steak, baked potato and vegetables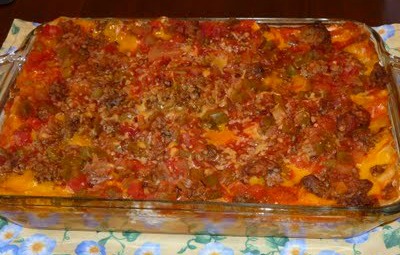 Mexican Lasagna
Grocery List:  Lasagna noodles, ground beef, refried beans, canned green chilis, taco seasoning,
salsa. cheddar cheese, sour cream, olives, green onions and tomato
Tuna and noodles (I use Tuna Helper sometimes, but here is a yummy looking recipe to try for tuna casserole)
Here is also a yummy looking recipe for tuna mac and cheese casserole that I want to try.
Grocery List: Varies according to recipe and green beans