Happy Monday! Here's this week's edition of "Quick Dinner Ideas."
To me, "quick" dinner ideas doesn't necessarily mean a meal you can throw together in five minutes. To me, the quick part comes before dinner time by:
having a plan for this week's dinners
having the ingredients on hand–(a.k.a. a trip to the grocery)
That is the biggest hurdle to jump in having a quick dinner. Once you do that, for the most part you are set!
For those nights however, that you literally may have minutes to spare, plan a few super simple dinner ideas:
light all beef kosher hot dogs (nitrate free if you can find them)
pasta
scrambled eggs
frozen veggie burgers
burritos with whatever fillings I have on hand
frozen chicken, veggie and pasta "dinner in a bag" from the freezer section of the grocery
a crockpot meal that you started in the morning and is ready at dinner time
keep raw veggies and fruits on hand to add to a less than ideal dinner
Check out my post 10 Ways to Make "Making Dinner" Easier.
Okie doke, on to this week's quick dinner ideas: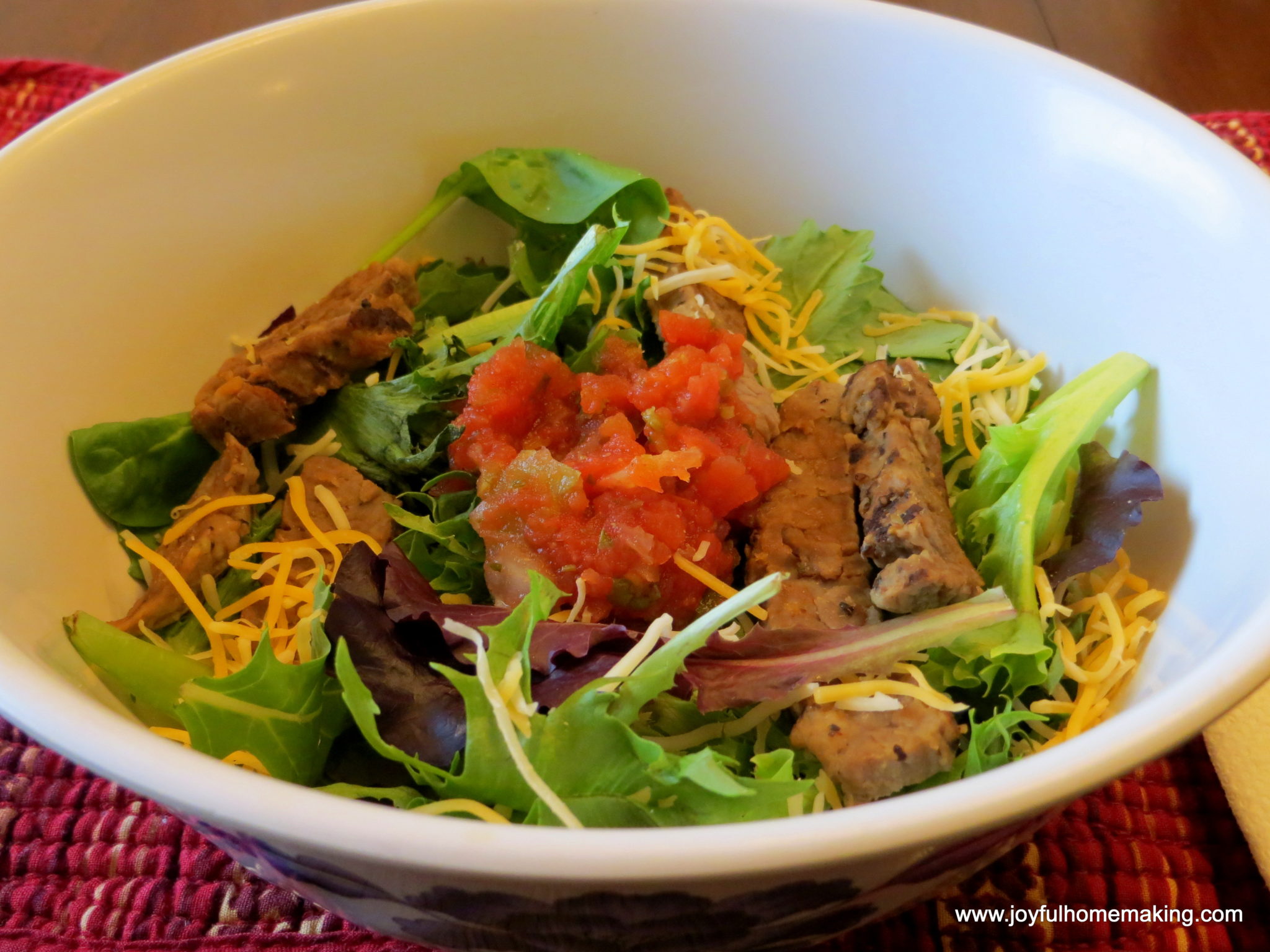 Southwestern steak salad
Grocery list: Mixed greens or romaine lettuce, tomatoes or salsa, grilled steak, and any or all of the following: cucumbers, corn, black beans, avocado and dressing of your choice
Grocery list: Taco shells, ground beef, taco seasoning, re-fried beans, tomato sauce, lettuce, tomatoes, sour cream, cheddar cheese
BLT sandwiches (bacon, lettuce and tomato), cheese crackers and fruit
Grocery list: Bread, mayonnaise, bacon, lettuce, tomato, crackers and fruit
Quiche
and
Banana bread
Grocery list: Pie crust, eggs, broccoli, cheddar cheese, bacon or ham (or just veggies), white and whole wheat flour, sugar and bananas
Turkey meatloaf
, mashed potatoes and peas
Grocery list: ground turkey, onion, breadcrumbs, egg, Worcestershire sauce, garlic, potatoes, peas
Tuna Cornbread Cakes
and vegetable soup
Grocery list: Cornbread, tuna, green onions, mayonnaise, parsley, Old Bay seasoning, vegetable soup
Hope you have a great
week
!
Blessings, Margo