Do you eat out too much??? We used to eat out a lot before we had children, and even when we had little ones. As the kids got older though, and graduated from sharing with us, to kid's meals, and then past the age of being young enough for the kid's meals, to the point where 2 out of 3 of our kids eat off of the adult menu, we've had to s-l-o-w d-ow-n, and eat out much less frequently. I just couldn't handle paying $50 or $60 dollars for lunch or dinner, by the time we added sodas and paid for the tip. I would think to myself, "you know how much meat or chicken I could buy with that?"
At first we cut back by choosing fast food places, when we wanted to eat out, but I still felt guilty about the quality of food I was feeding my family, plus I realized I could feed them healthier at home, save at least half off the cost of fast food, and do it fairly quickly. So what we've been doing when we need a quick meal, instead of running through a drive thru, is "running through" the grocery and grabbing some lunchmeat (no added nitrates or hormones), cheese slices, bread or buns, baby carrots and a bag of chips, and throwing together our version of "fast food." Most frequently this is a Saturday evening or Sunday after church meal, and you know what, if fills our bellies just as much as a hamburger and fries would at a fast food place. 🙂
I would love to hear what your family's "fast food" options are! Just leave a comment and share.
Here are this week's ideas for a delicious sit down dinner time:
Chicken Nachos
Grocery list: Cooked chicken breasts or rotisserie chicken, tortilla chips, Cheddar cheese, black beans, tomatoes, green onions, taco seasoning, salsa and sour cream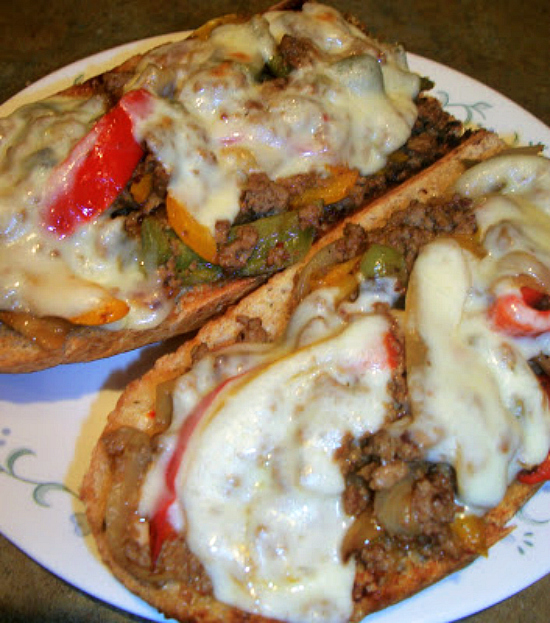 Open Faced Hamburger Phillies
Grocery list: Ground beef, red, green & yellow peppers, onion, Italian dressing, Italian bread & provolone cheese
The dessert choice for the week are these:
If you'd like some further meal ideas, click on the links below for breakfast and lunch inspiration: