Pesto & Sundried Tomato Pasta Salad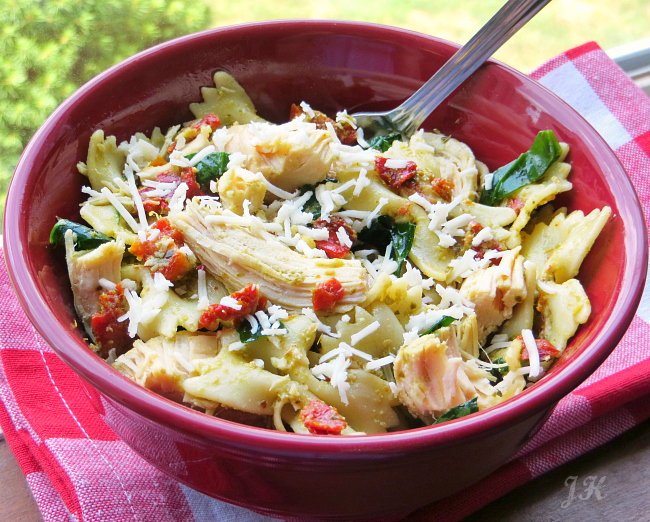 Author:
Joyful Homemaking
16 oz box pasta (I like cellentani or bowtie, but any short pasta will work)
6.7 ounce jar traditional basil pesto
¼ cup balsamic vinaigrette
1½ cups cooked, chopped chicken breast
7 ounces sundried tomatoes in oil, diced
½ cup or more shredded mozzarella
¼ Parmesan cheese
2 cups fresh spinach leaves
Cook, drain and rinse your pasta.
If you'd like, tear or chop up the spinach leaves into more bite size pieces.
If your sundried tomatoes aren't already diced, dice them up, but save the oil they're in to add to the salad.
Now's the easy part, toss everything together in a large bowl (clean hands work really well for this), and chill for a couple or more hours.
Taste and see if it needs salt and pepper (according to your family's taste), then give it a quick stir to refresh all the ingredients, and remix in some of the oil and dressing that settled to the bottom, and serve.
Recipe by
Joyful Homemaking
at https://joyfulhomemaking.com/2016/08/pesto-sundried-tomato-pasta-salad.html