Fabulous Pizza Dough and Stromboli Recipe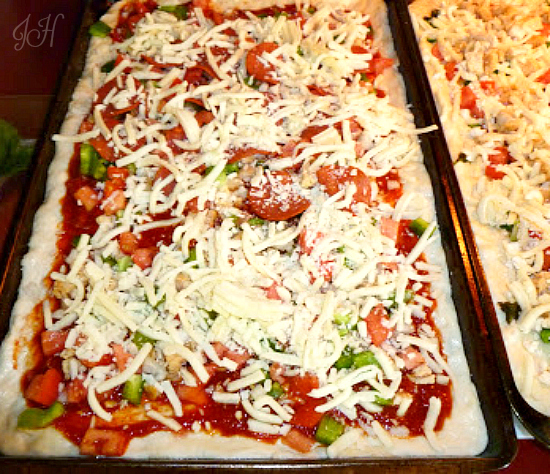 Author:
Joyful Homemaking
Recipe type:
Pizza Dough and/or Stromboli
2½ cups warm (not hot) water
1 Tablespoon (or one packet) of yeast
⅓ cup of sugar
¼ cup of oil
1½ teaspoons of salt (now others in my family use more like 2 tsp. but I prefer less salt)
Put in a large bowl and let set for 5-10 minutes so the yeast gets started.
Then add about 5½ cups of flour (I prefer all white flour but you could use a combination of white and wheat, which I actually did this time because I ran out of white).
Stir with a spoon and see if it is still too wet; if it is, add ½ cup more flour. Then use your hands to mix the dough.
If it is still sticky add ¼ cup of flour till you have a slightly "dry" dough.
Knead for a couple of minutes and then form into a ball.
Pour a tablespoon of oil into the bowl, and use the dough to oil the sides of the bowl.
(You can use your mixer dough hook and mix the dough instead, but I prefer doing it by hand, because I think it makes the crust nice and light.)
Then cover with a towel and put in a warm non drafty spot, and let raise for 1½ hours.
For pizza: Spread dough in pizza pans. This amount will make 2 large thick crust pizzas or 3 thin crust pizzas.
After spreading dough out, let it sit and raise again for an hour. Then top with sauce, toppings and cheese, and then bake at 400 degrees for about 15 minutes or until the crust is golden brown on top and bottom.
For stromboli: Divide dough in two. You can make two large strombolis or one stromboli and one pizza.
Spread out the dough on a rectangle pizza pan.Stromboli filling options: Pesto sauce, chicken and cheese, ham and cheese, pepperoni and cheese, chicken and cheese, Italian sausage and cheese, any combination that sounds good to you.
Spread out your ingredients of choice. I used pesto sauce, then chicken, and then cheese.
Now you are ready to roll the dough.
Roll the dough lengthwise tucking in the ingredients. When it's all rolled up, seal the edges.
You can sprinkle with parmesan cheese and italian seasonings if you wish.
Bake at 350 degrees for about 25minutes or until golden brown, and sounds hollow if you tap on it with your fingernail.
Let cool for about 5 minutes before slicing.
Recipe by
Joyful Homemaking
at https://joyfulhomemaking.com/2011/05/fabulous-pizza-dough-and-stromboli-recipe.html