Pasta Salad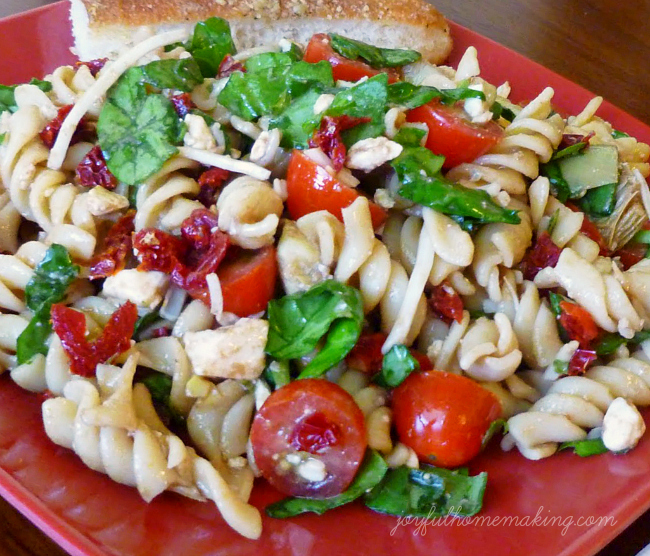 Author:
Joyful Homemaking
16 ounces of rotini pasta, cooked and drained
3 ounces (large handful) fresh spinach, chopped
¼ cup chopped fresh basil
10 ounces grape tomatoes, cut in half
½ cup or more of sundried tomatoes, chopped
4 ounces of feta cheese
¾ cup of mozzarella cheese
14 ounce can of marinated artichoke hearts, drained and chopped
optional: thinly sliced red onion, or cucumber chunks
Dressing:
½ cup olive oil
¼ cup balsamic vinegar
2 cloves of garlic, chopped
juice of half a lemon
salt and pepper to taste
In a large bowl, add the cooked, drained and cooled pasta, sundried tomatoes, grape tomatoes, spinach, basil, artichokes, feta and mozzarella cheese.
Mix well and then you are ready to make your dressing.
Mix the olive oil, balsamic vinegar, garlic and lemon juice really well and pour over salad.
Toss well, and chill before serving. This makes a huge amount, probably enough for eight, depending on serving size.