When I was first married, one of my favorite breakfast sandwiches to eat on a car trip was an egg, cheese and sausage sandwich.
However, the last few years, I've almost completely cut sausage from my diet, since it's hard not to wonder sometimes what's in it, but since some of the best casserole and sandwich recipes, breakfast and otherwise, contain sausage, I've tried seasoning ground turkey to taste like sausage.
In the past, I've just thrown in sage and called it done, but after searching a bit, I've found a great combination of spices on All Recipes.com that you can add to ground turkey to make "sausage" patties, and I adjusted it a bit to add to loose ground turkey that I can add to beans, eggs, or casseroles which call for cooked sausage.
I reduced the sugar and salt to suit our family's tastes, and also the pepper because it was too hot for me.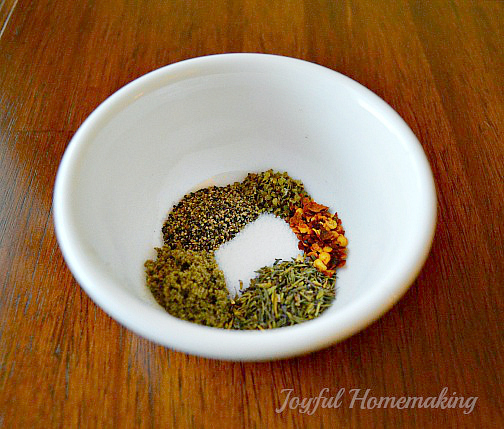 For 1 pound of ground turkey add:
1 teaspoon brown sugar
3/4 teaspoon of salt
1/2 teaspoon pepper
3/4 teaspoon ground sage
3/4 teaspoon thyme
1/4 teaspoon marjoram
1/4 teaspoon red pepper flakes
optional: pinch of ginger, clove of minced garlic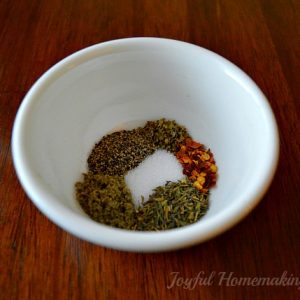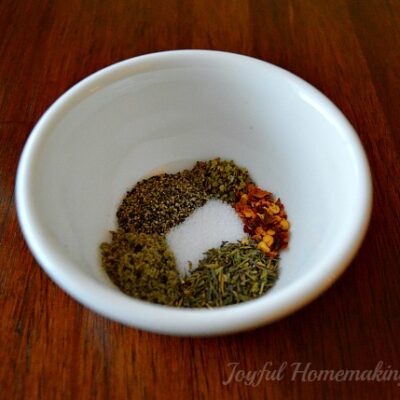 Print
Flavor Ground Turkey to Taste Like Sausage
Ingredients
For 1 pound of ground turkey:

1

teaspoon

brown sugar

3/4

teaspoon

of salt

1/2

teaspoon

pepper

3/4

teaspoon

ground sage

3/4

teaspoon

thyme

1/4

teaspoon

marjoram

1/4

teaspoon

red pepper flakes

optional:

pinch

of ginger

clove

of minced garlic
Instructions
Add to ground turkey and mix well.

Cook according to recipe.
After adding it to my ground turkey and cooking it, I made a quick egg and "sausage" scramble for dinner.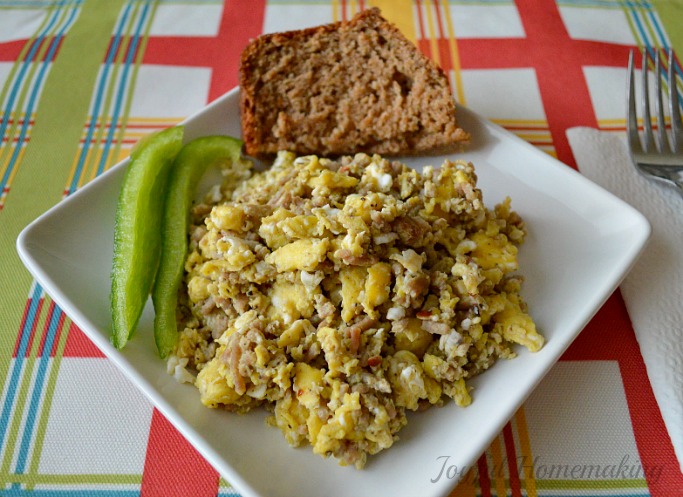 It was scrumptious, and I served it with our favorite banana bread recipe:

Best Banana Bread EVER!!!
Click on the link to see my secret. 🙂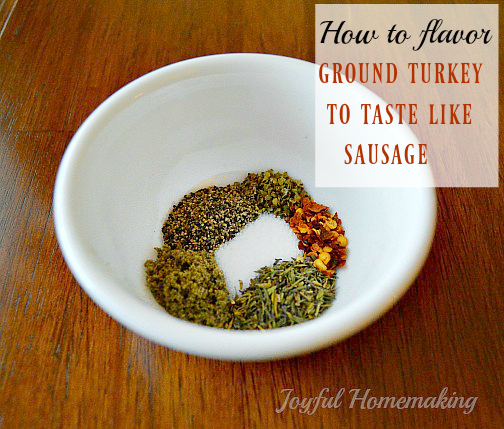 Enjoy!