Years ago, I heard that this was a celebrity's favorite dish, and I was curious because I had never heard of fettuccini carbonara. Pasta, eggs, cheese, cream, bacon… let me tell you, it is worth tasting!
The ingredients come together so quickly, that it's a snap to make. It is a very rich recipe, so you wouldn't want to eat it every day, but it is perfect for when you want to serve something a little special.
Here is what you need:
1 pound of fettuccine
1/4 cup of cream
1/2 pound of cooked chopped bacon
3/4 cup of grated Parmesan cheese
1/4 c butter, melted
4 eggs
parsley for garnish (optional)
Let the cream and eggs come to room temperature (or do what I did, and microwave for about 30 seconds). Cook your fettuccini noodles in boiling salted water according to the directions on the box.
Whip the eggs and cream lightly just till blended.  When the fettuccini is cooked, drain, and then immediately pour in the melted butter and the cream and egg mixture. You want your fettuccini to be hot enough to cook the eggs. So mix it all together till your eggs look nice and scrambled. I even put my mixture on the still warm burner as I mixed it. You do not want raw eggs!
When you can see that your egg is done, mix in the Parmesan cheese and the bacon, and garnish with fresh chopped parsley if desired.
Serve immediately. Makes 6 servings.
This was so yummy, and I even thought the leftovers the next day were delicious.


Hope you enjoy!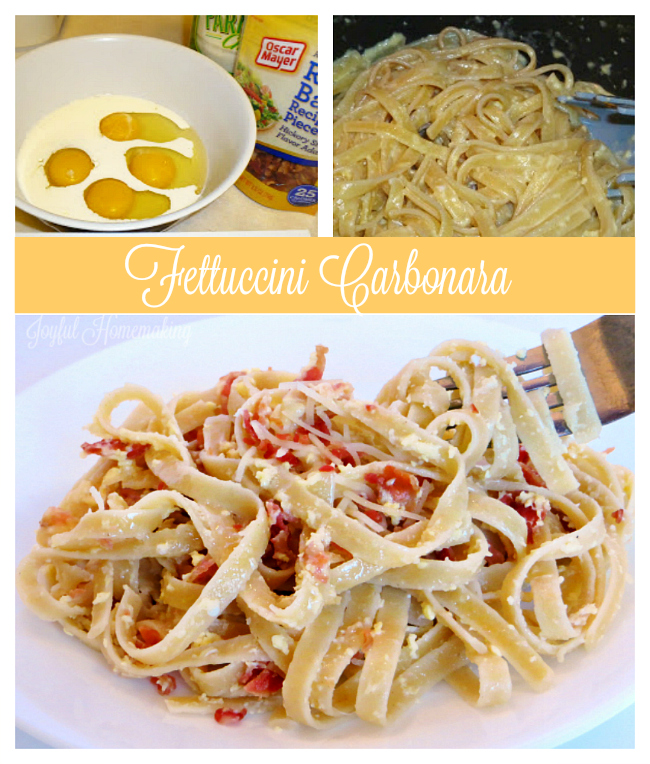 Save