Maybe I found to many bargains this summer, but my pots and pans cabinet is bursting at the seams! I noticed that the kids' snack cabinet which is prime real estate next to the stove, was being completely under utilized, so I decided to claim it. A lot of their snacks are stored in the refrigerator, freezer or on the counter top anyway, so they really didn't need a whole cabinet.
Here is the before shot of their "snack cabinet."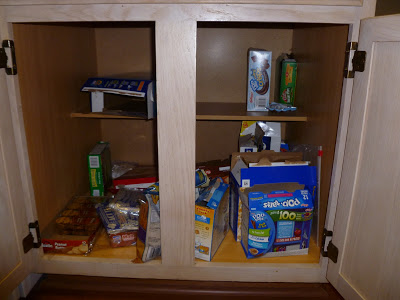 Disorganized and lots of wasted space…
I emptied it out, and put most of the boxes in recycling. I realized how much space just the packaging takes up!
I saved a few of the empty boxes, and cut them down to help organize a bin as the new snack storage place. Here is what it ended up looking like:
Nothing fancy, but much more efficient, and it will fit on a shelf in the pantry.
I also put any extras right in the shoe bag on the back of my pantry door, which I blogged about here, that works great for storing little things so they won't get buried somewhere.
We keep frozen waffles in the door of the freezer for easy access, and this little bin in the fridge holds cheese sticks and yogurts in reach. Baby carrots and apples are kept low, and bananas are on the counter.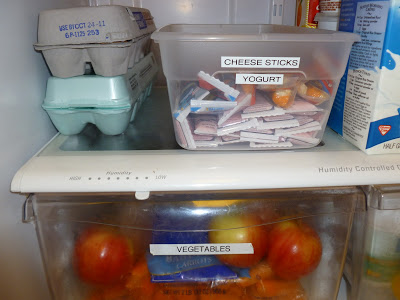 So they are covered with their snack storage, and now I have an empty cabinet for pots and pans, which works for everyone, right?
Now I need to get busy…

Blessings, Margo