I made this for dinner last night, and I was thrilled with how quickly it can be put together with mostly ingredients from the pantry. For extra convenience sometimes, I like to keep canned chicken on hand which works well for dishes like casseroles or pot pies.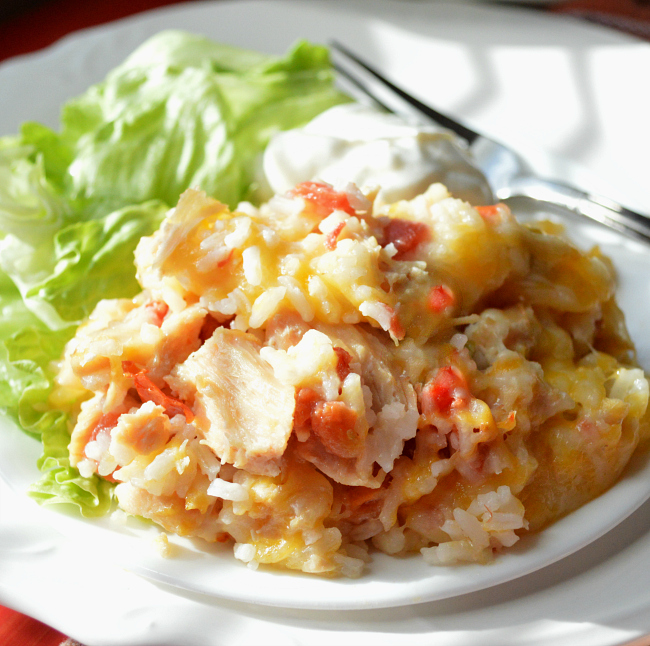 This Adobe Chicken Casserole is the simplest casserole to throw together, especially if you have canned cooked chicken on hand.  If you use instant rice, you can have this casserole in the oven in 10 minutes!
Sam's Club sells canned chicken in different sizes.
INGREDIENTS:
For your convenience this post contains some affiliate links. Click here to read my full disclosure policy.
(adapted from The Best 1001 Short Easy Recipes)
2 cups of brown rice, cooked
1 can of chopped tomatoes and green chiles, drained (10 ounces)
3 cups of chopped cooked chicken
1 package of shredded Monterey Jack cheese (8 ounces, halved)

If you do use canned chicken, make sure you drain the water out.

Then mix the cooked rice, tomatoes and green chiles, chicken and half of the cheese.

Pour into a greased 7×11 casserole dish and cover with foil. Bake at 325 degrees for 30 minutes.

Sprinkle with the rest of the cheese and bake uncovered for 5 more minutes.

Now, you can serve it as is, but I jazzed it up with lettuce and sour cream, and it was the perfect combo.


Super Easy Adobe Chicken Casserole

Author:

Joyful Homemaking

Ingredients

2 cups of brown rice, cooked
1 can of chopped tomatoes and green chiles, drained (10 ounces)
3 cups of chopped cooked chicken
1 package of shredded Monterey Jack cheese (8 ounces, halved)

Instructions

If you do use canned chicken, make sure you drain the water out.
Then mix the cooked rice, tomatoes and green chiles, chicken and half of the cheese.
Pour into a greased 7×11 casserole dish and cover with foil. Bake at 325 degrees for 30 minutes.
Sprinkle with the rest of the cheese and bake uncovered for 5 more minutes.
Now you can serve it as is, but I jazzed it up with lettuce and sour cream, and it was the perfect combo.
My hubby jazzed his up with his favorite green tabasco sauce. He also mentioned that this dish would be delicious served in tortillas, and I agree.


 

My hubby jazzed his up with his favorite green Tabasco sauce. He also mentioned that this dish would be delicious served in tortillas, and I agree.

It's the perfect dish to tweak to your personal tastes!


Hope you enjoy!

Save