I have always admired the pretty colored leaf shaped cookies I've seen on the internet for years, and I finally decided to find some of those adorable cookie cutters, and make some myself!  I bought some online without checking the dimensions and ended up with quarter size leaf cookie cutters.  😛  So the next time I purchased, I was sure to check dimensions first.  Then my new daughter-in-law and I were talking, and she has a wonderful collection of cookie cutters, and let me borrow some too!
My two youngest are always up for helping me make COOKIES.  To make it a little less messy, I use a square of wax or parchment paper for each of us, with a little flour on it, to make it less sticky when we roll the dough out.
I used the same Christmas sugar cookie recipe that I posted about a couple of years ago, that is egg free.  This way I don't have to worry about raw egg, when the kids are helping.

Egg Free Kid Friendly Sugar Cookie Recipe
Egg free sugar cookie recipe, so there's no worry of raw egg in the dough when the kids are helping!
Author:
Joyful Homemaking
Recipe type:
Dessert, Holiday
Ingredients
2½ cups flour ( I sift mine)
1 teaspoon baking powder
½ teaspoon baking soda
¼ teaspoon salt
One 8 ounce pkg. cream cheese (or Neufchatel cheese)
¾ cup (12 Tablespoons) or 1½ sticks softened butter
1 cup of sugar
1½ teaspoons vanilla
½ teaspoon almond extract
Instructions
Mix all your dry ingredients except the sugar, in a separate bowl.
In a mixing bowl beat together the cream cheese, softened butter, sugar, vanilla and almond extract till creamy, and then slowly add the flour mixture.
Form it together into a rough ball, cover it, and chill in the refrigerator for at least 30 minutes.
Then roll out the dough on a lightly floured surface, and cut out your cookie shapes with cookie cutters.
Bake in a preheated 350 degree oven on lightly greased or parchments covered cookie sheets around 12 minutes.
Let cool and decorate!
This recipe is perfect even without eggs;  it uses cream cheese as a replacement.
The kids always get a bit creative with their cookies!  😉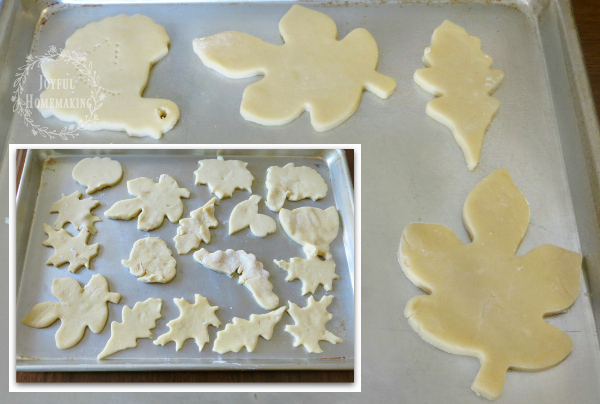 These cookies bake up quickly in around 12-14 minutes.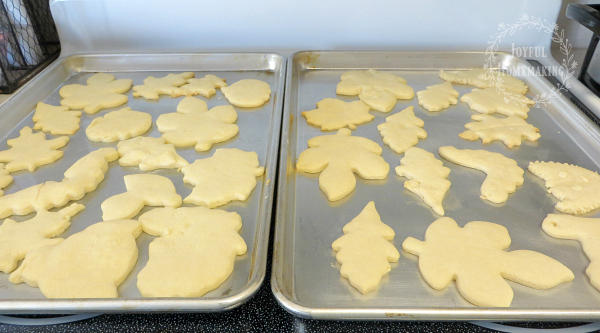 For the icing, I wanted to use a glaze that hardens, instead of a buttercream frosting.
Here is the recipe I used:

Leaf Cookies with Autumn Colors
Author:
Joyful Homemaking
Recipe type:
Icing that Hardens
Ingredients
2 Cups Powdered Sugar (Confectionery Sugar), sifted
2½ Tablespoons of Milk (I even used rice milk)
2 Tablespoons Light Colored Corn Syrup
¼ teaspoon vanilla
Food Coloring
**Can add a dab more milk if you think it's needed, but if you add to much, your icing will be too runny.
Instructions
Mix with mixer till there are no lumps.
Separate into bowls or by how many colors you want.
Add food colorings and mix.
Make sure bowl is wide enough for lightly dipping tops of cookies, or pour colored icing into small plate with curved edge.
Lightly dip top of cookie in icing and scrape off excess icing on edge of dish.
Let set on drying rack or waxed paper.
This cookie recipe makes about 4 dozen cookies, depending on the size of your cookie cutters.  For this amount of cookies, you may have to double the icing recipe.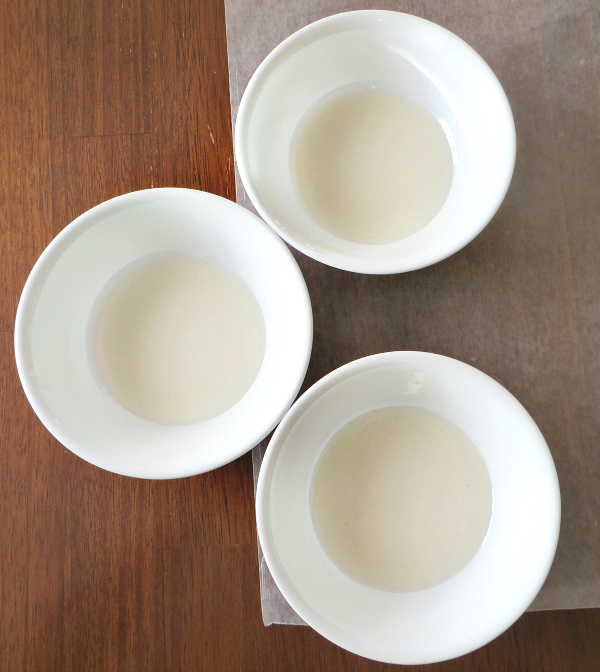 This post contains some affiliate links for your convenience. Click here to read my full disclosure policy.
I chose 3 simple colors, a red, green and copper, from my Wilton food colorings (affiliate link).

It doesn't take much to stir in the coloring, and you can choose your favorite shades!
We just dipped the very tops of the cookies in the icing and scraped off the excess on the edge of the bowls.  Sometimes I had to use my fingers to smooth the icing out for an even look, kind of like finger painting.  😛
I sprinkled gold colored sugar crystals on the tops, for some texture and extra shininess.
I just love how they turned out, and we're getting them done just in the nick of time,
before it's time to start making Christmas cookies!
If you'd like to make some of these gorgeous cookies before Thanksgiving…Amazon Prime has two day shipping for selected cookie cutters!  🙂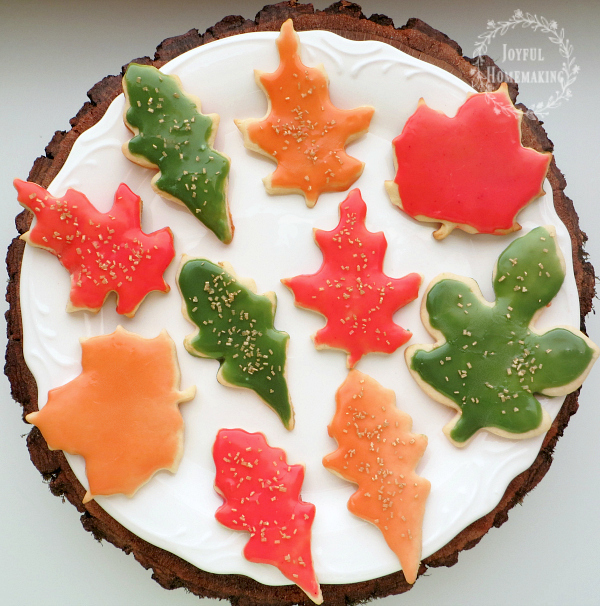 These aren't hard to make, so don't be afraid to give them a try.
I was so tickled with how they turned out, I couldn't stop taking pictures.  🙂
To me there aren't a lot of things prettier than fall leaf colors anyway.  They showcase God's beautiful creations.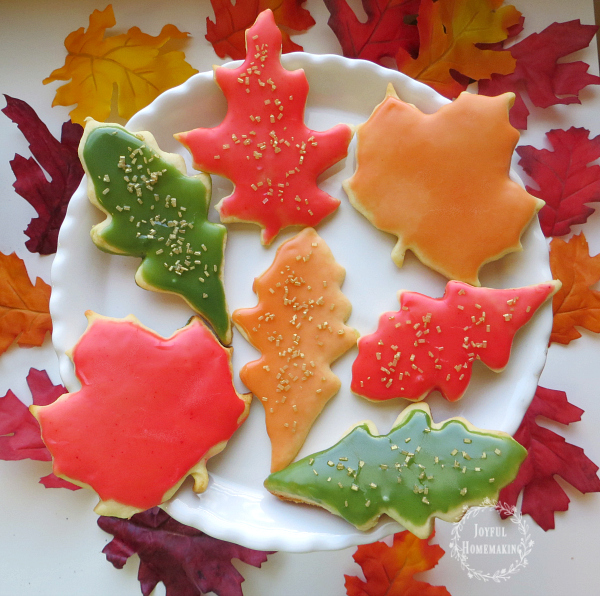 I think I'm starting a cookie cutter fetish.  😛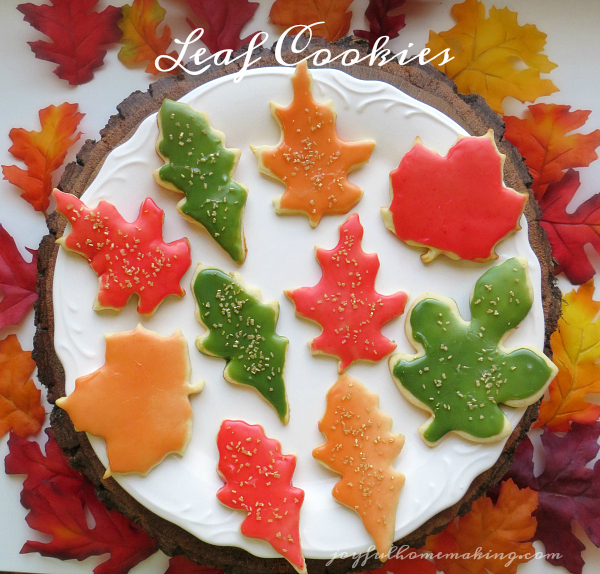 I hope you enjoy making your own beautifully colored fall leaf sugar cookies!