Organizing Tips For Home That Really Work
Have you ever found some organizing tips that seemed brilliant, and then you went and organized the life out of an area, but then notice 3 or 4 months later that it's JUST. NOT. WORKING? Clutter is piling up, or things aren't making it into the bins, baskets, drawers or files that they're supposed to be going into. Yep, been there, done that too.
So I've looked back through all of my organizing posts from the last 7 years, and picked out the organizing tools that have stood the test of time and really worked…the tried and true organizing tips for home that worked for me, and I hope will work for you too!
First things first though, DECLUTTER. You can't organize clutter. Get rid of what you don't use or don't need, then you're ready to begin grouping like things together!
Here are some of the favorite tools in my arsenal for organizing:
Baskets
Bins
Drawers
Hooks
Cube storage shelves
Shoe bags
Label makers
Tension rods
Decorative boxes
Hanging file folders
The shelves and baskets in my Coat Closet Organization are still working well for my family. We each have one or two baskets for our shoes for whatever we're currently wearing, depending on the season. There are also baskets that hold either pool/beach stuff or gloves, hats and mittens, again depending on the season. In the off seasons, we store things in the basement.
My under the sink organization is the most recent place I've organized, and I'm happy to say it IS still working very well. I love the sliding drawer I have on the left because I can pull it out to reach items I need, and not have to dig around in the dark recesses under the sink.
My Pantry Organization has held up well, although I must admit it doesn't stay as pristine as in this picture. 😛 The baskets, and shoe bag on the door are what works the best. They keep like things more easily accessible and tiny things out where I can find them.
When looking for baskets, keep in mind the size of things you want to store in them.
In my spice cabinet, I still have my little tension rod to hold up tiny spice bottles so they don't get hidden!
This handy food wrap organizer still holds many of my food wraps for when I pack lunches each morning, and also helps the others in my household to find what they need when packing something up. I found it on Amazon, and the top is perfect for larger boxes like some of the ziploc type bags come in, and I'm loving it!
My hanging file folder is a lifesaver for keeping track of my important items that aren't yet ready for long term filing.
Boy, my medicine cabinet organization is so nice, with all the medicines and medical supplies I like to keep on hand, having everything sorted and labeled is very helpful and efficient.
If you don't have a label maker, I don't think you'll ever regret purchasing one!
While you may not think of dishwasher magnets as an organizing tool, let me tell you, this simple DIY project has saved me from rewashing dishes so many times after someone had opened the dishwasher to get something, and the "clean" light went off. With my aging brain, it's one less thing to have to try and remember.
Having a decorative box with extra birthday, get well and thank you cards in it, has saved me a bunch of trips to the store at the last minute. When your schedule is tight, this can be a huge help!
At my house, you never know what might be hidden in a decorative box…
Baskets and bins are so useful for toy organization and corralling all those little things our kids like to collect. Make them even more valuable by labeling with pictures or words, so your kids know everything has a place and where it goes.
With cube shelving in 4 rooms of my house, you know it must be HUGE for organizing help.
The cube shelves just hold so much and yet keep things separated so tidily.
Plus you can change up the look from casual to prettier depending on what (if any) bins or baskets you use on them. Yes, we still have them in both kids' bedrooms.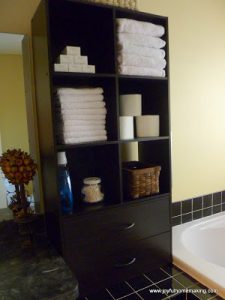 Since we haven't gotten around to remodeling our master bath, I am continuing to use the dark cube storage in there as well, and it's held up wonderfully!
A strong hanging closet organizer continues to be my choice for holding games and puzzles.
When in doubt for storage, go vertical! Plus, these hanging closet organizers are so handy for storing many different items.
Shoe bags are kind of a running joke in my house, because I love them so much for their amazing functionality. I still use them for my daughter's hair items, and on the back of my pantry door for smaller foods and seasoning items.
If you're like the girls in my house, you probably have lots of tank tops or camisoles, and this hanging hook is perfect for storing lots of them in a small space.
The part of the chore baskets that is continuing to work for me is having all the supplies I need to clean in one convenient spot.
More important than having separate baskets for each room is to keep your supplies safe from kids, and close to where you're going to use them.
I've never found anything better than these stackable narrow plastic drawers for under my bathroom sink. I can easily separate supplies and in spite of the door frames, the drawers have enough room to pull out easily.
If you have a tight space, make sure you measure before purchasing pull out drawers!
This password printable gets constant use because I like to make my passwords long and hard, but unfortunately that means I can never remember them. But I always know where to find them!
I have this Birthday and Anniversary Printable on the side of my refrigerator all filled out with my family and friends' important dates so I don't miss a one!
My daily planner is my most important tool I use everyday to keep up with my life and my family's. I write everything down so I don't have to trust my memory. I also use a large calendar on the refrigerator to see a month's activities at a time.
Storing extra supplies in the basement, of deals I've found at the grocery, saves money in two ways: they were bought at good prices, and they save me a trip to the store where I'd be tempted to buy more than I went in for. It's more convenient to walk downstairs than get in the car and drive to the grocery store!
My hubby takes care of Organizing in the Garage and nothing has changed much in here since these pictures. Everything he used continues to work well for holding our bikes, tools and extras.
Let me know what tips work best for you!